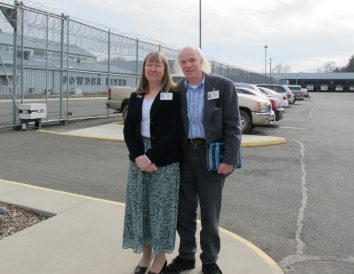 Prison Ministries is an important outreach of the Baker City SDA Church. Currently, our Prison Ministry team consists of Marvin Sundean, Director, and Pam Sundean, Assistant. Marvin has been a volunteer at Powder River Correctional Facility for over 20 years, and his wife, Pam, has been volunteering for the past 9 years. Together, they present a Creation Seminar every Thursday evening, and conduct a church service every Sabbath morning. Marvin has also taught classes on "Relationships That Last," performed concerts, and has worked with the PRCF worship team on various music projects and concerts as well.

Our local facility is primarily for inmates whose crime is drug and / or alcohol related. Once approved as a volunteer by the Department of Corrections for the State of Oregon, volunteers may work with inmates in general population as well as those in the A&D program. PRCF is supported by volunteers from several churches in Baker City.

Many of the inmates who have attended the church service over the years started coming to the Creation Seminar first. Discovering, through the videos and other presentations, that Genesis stands up to scientific scrutiny, and that the theory of evolution does not, and realizing that God has given us life for a purpose, are powerful revelations for many of the inmates, helping them to better understand the love and character of God.

Other inmates attending Sabbath services are Seventh-day Adventists, were raised as Adventists, or attended Adventist services at other facilities before being transferred to PRCF. Some inmates are simply searching for truth and attend other services as well. It is often noted and appreciated by the inmates that the SDA service actually studies from the Bible, and does not simply rely on opinions given by the presenter.

Marvin has also given Bible studies to a number of inmates over the years, with the majority of those who continue past the first couple of lessons achieving their completion certificate. He has used both Amazing Facts and Voice of Prophecy courses. Marvin has also taught a Prophecy Seminar to inmates interested in prophetic events.

Many of the inmates are eligible for the Drug and Alcohol Program, and most complete it successfully. The program emphasizes finding one's "higher power", and for most of the inmates, that higher power is God, and the realization that overcoming addiction requires something greater than ourselves.

The overwhelming majority of the inmates who complete the D & A program leave PRCF never to be incarcerated again. Though some will fail and be re-incarcerated, Marvin and Pam have been amazed how God has been able to make such incredible changes in the lives of the men who have been willing to humble themselves and allow the Holy Spirit to become the guiding force in their lives. Please keep this important ministry in your prayers.